Start Here!
Hi! Welcome to K4JSG.com!

---

Here is how the process works!
After you decide the size and quantity of cards you want, place your order. Do so by clicking at the top of the page where it says QSL Cards in the blue horizontal menu bar. Then select the quantity and size that you have chosen. Add the item to your shopping cart. You can continue to look or around, or if your ready to check out, go to the top of the page and find the black box that is your shopping cart. Click on it and select Checkout.
You will go through a few information steps. When it takes you to the payment options, select PayPal or Credit Card. This will take you to PayPals website. You can either use your PayPal account to pay, or look for the link that says to use your credit card, I have pointed out where it is using the picture below.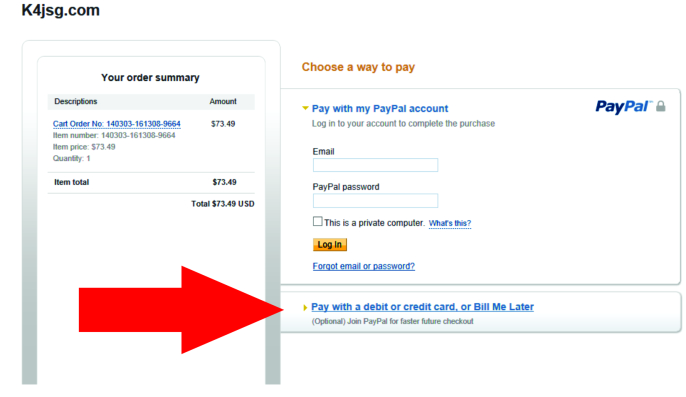 Once you have submitted your payment, we are ready for the artwork stage.
This part is very simple. If you already have a design you want me to use, simply email it to me and let me know. I will check the files and make sure they are good enough quality and that there is enough room on the edges for bleed for cutting. Try and make sure there is at least 3/16" of space around the edge of the card that only contains the background image.
If you don't have artwork prepared already, Just email me the images you want to use on your cards, just be sure they are good quality and size. Also email the info you want on the cards such as address.. location markers.. club info.. etc.
I will put everything together and email it back to you for your approval. I will make any changes you would like to make. Once your satisfied with the artwork, I will send them to production. From the time I have your approval to print, the process takes about 7-14 business days for the cards to arrive on your doorstep. Happy QSL'ing!
---
There are no products to list in this category.